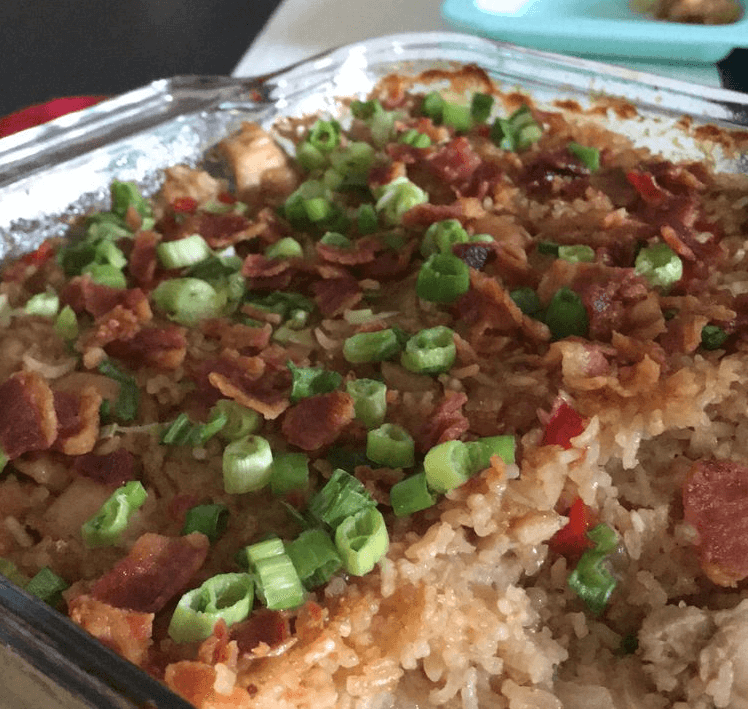 When we think of Hawaii, we think of the warm island breezes, rainbows and good food. When we can't fly away to soak up the first two items on our list, we can recreate the last item right in our own kitchen: good food. We have the perfect recipe to take at least our taste buds on vacation: Aloha chicken and rice. It's a delicious combination of salty, savory and sweet that will give pep to a weekday dinner. All we need is a few staples from the pantry and a few fresh ingredients to bring the taste of aloha to our table.
Pantry staples are a great way to prepare meals quickly, which is why we always have instant rice on hand. When we need to add substance to a meal, rice is a quick and easy way to add heart. Canned fruit, such as pineapple, is another ingredient we like to keep in the pantry for occasions like this. We make a marinade with soy sauce and use pineapple chunks to add sweetness and acidity. The fresh ingredients help brighten up these pantry staples. Peppers are a great way to add color and crunch, while chopped green onions give a peppery taste. We use chicken tenders here because they cook very quickly and we all know that adding bacon to a meal makes it taste so good, so a few strips of chopped bacon are a perfect way to add more flavour.
As it cooks in the oven, our kitchen is filled with a warm and inviting aroma. We love the combination of salty soy sauce, honey and sweet pineapple, al dente rice and tender chicken. Colored foods are so appealing, which is why we like to use peppers and green onions, both for flavor and appearance. When we can't escape to a tropical island paradise, we can at least try to bring some of that island life home, and our Aloha chicken and rice are exactly what we need to bring the taste of the vacations to a weekday meal.
INGREDIENTS
1-1 ½ crush chicken tenders, cut into 1-inch pieces
¾ cup low sodium chicken broth
½ cup low sodium soy sauce
½ cup of honey
2 cloves of garlic, chopped
1 ½ cups instant rice, uncooked
1 medium yellow onion, diced
1 bell bell pepper (any color), diced
1 can of pineapple pieces
1 teaspoon crushed red pepper flakes (optional)
2 tablespoons chopped green onions, garnish
3-4 slices cooked bacon, chopped
PREPARATION
Preheat oven to 425°F. Coat a 9×13 inch baking dish with cooking spray.
In another bowl, whisk together the chicken broth, soy sauce, garlic and honey (add crushed red pepper flakes, if necessary).
Add the rice, chopped onion, bell pepper and pineapple chunks with the juice, and the chopped chicken pieces to the baking dish. Pour the soy sauce mixture on top.
Cover with aluminum foil and cook for 20 minutes. Mix the ingredients, then cover with bacon pieces and return to the oven, uncovered, for 10 minutes.
Stir again before serving and garnish with chopped green onions.