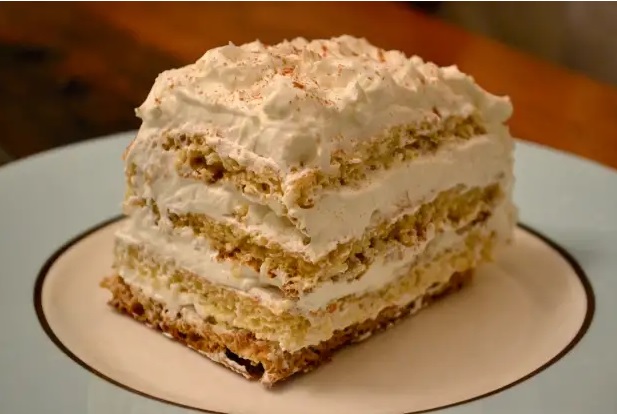 How to make:
Honey Cake
By: Shawnna Fields
This time of year is both exciting and dreary. Fluffy, soft snow has been replaced with rain, sleet, and sloppy mud. I find myself looking forward to the warm, summer days just around the corner. Until then, I take solace in curling up on the couch with a nice, hot cup of tea and a piece of one of my favorite cakes.
I first had this cake over five years ago when a friend of mine brought it to a potluck. She's Ukrainian and wanted to share a traditional dessert with the group. It was love at first bite! The sweet, honey flavor of the cake layers combines with a rich cream cheese and sour cream frosting, creating a splendidly sweet treat. This cake is a popular dessert in Ukrainian and Russian households here in the U.S. If you don't want to make it, you can find it in most Russian food stores. It's a common staple at Christmas, Thanksgiving, and New Year's dinners, and if you do try this recipe you'll discover why this decadently delicious confection is reserved for special occasions. Enjoy!
HONEY CAKE
Preheat oven to 320 degrees
Batter:
3 tsp. white vinegar
2 tsp. baking soda
2 c. flour
1 1/4 c. sugar
4 Tbs. honey
6 eggs
* In a mixing bowl, mix 2 tsp. baking soda and 2 tsp of vinegar together. When it is done bubbling, mix in remaining tsp. of vinegar.
Add remaining ingredients and mix well.
Line four 9×13 inch cake pans with aluminum foil. Spray with cooking spray to coat.
Pour 1/4 of the batter into each pan and bake for about 10 minutes.
While cake is cooking, make cake filling.
Filling:
Scroll to Continue
walnut-torte-best-ukrainian-recipe
Walnut Torte – Best Ukrainian Recipe
priscilla-presley-plastic-surgery-pictures-before-after
Priscilla Presley plastic surgery pictures – before & after
my-mothers-cooking-potato-dumplings-with-bacon-and-onions
My Mother's Cooking – Potato Dumplings With Bacon and Onions
2 – 8 oz packages of cream cheese
16 oz container of sour cream
16 oz. container of whipped cream
Mix sour cream and cream cheese with an electric mixer until completely smooth.
Add whipped cream and continue mixing until blended well.
Add powdered sugar to taste if you like a sweeter frosting.
Assembling Layers:
Allow layers to cool.
Gently pull aluminum foil off layers and stack layers together.
Take a bread knife and slice about 1 inch off each side of the cake.
Layer filling throughout each layer. Make sure you reserve enough filling to cover the cake top and sides.
Sprinkle with cinnamon (optional) and enjoy!